one in a melon: a review of Suika Game
Thoughts on a silly physics-based puzzle game and some reflections on the tangled web of social media.
---
It's rare that a video game gets a second shot at life. The three weeks after a title's release is the critical window where most sales are made and the strongest impressions are left. After the proverbial ink dries on the pages of review sites (if you're fortunate enough to get any) and the chatter dies down, sales gradually taper off to a slow trickle. Unless you're Nintendo—whose games buck the trend and continue to sell year over year—your options are limited; you can release an update or tack on some DLC for a modest bump, but it only delays the inevitable. However, there's one wild card that can occasionally bring a stagnant game back from the brink of death: social media trends.
Among Us is doubtless the most famous example; released in 2018 to little fanfare, the Mafia-style multiplayer exploded in popularity at the start of the COVID-19 pandemic due to popular live streamers setting up games with friends. It was an organic moment in which the game's appeal was demonstrated by regular people simply playing it and enjoying themselves, free of marketing campaigns, stilted tech demos, or money exchanging hands under the table. These days, with the increased prevalence of streaming, it's not uncommon for games to get rolled up into the online ecosystem, extending the tail of their lifespan and keeping them in the public consciousness much longer. (This outcome is so desirable that some developers even try to court influencers with their game design choices.) Suika Game is the latest benefactor of these surprise viral trends.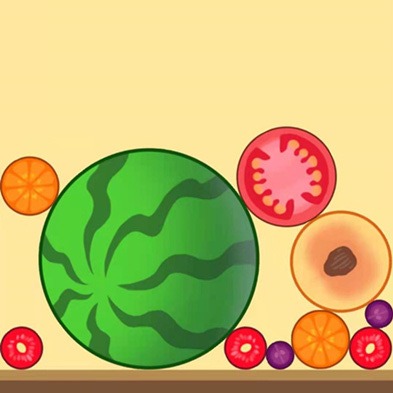 The physics-based puzzler began life as a Chinese mobile game called Synthetic Watermelon (合成大西瓜), spreading through word of mouth via Weibo (China's equivalent to Twitter) in early 2021. The premise is extremely simple: fruits fall from the top of the playing field, and combining two matching ones creates a larger fruit. Your goal is to continue combining fruit until you create the largest one (the watermelon, of course) while keeping your stack low enough so that it doesn't spill over the top. The game became massively popular in China, but avoided crossing over to other countries due to the walled garden of Chinese app stores. (Searching Synthetic Watermelon or Suika Game on Western storefronts turns up a bunch of imitators, but don't download them; they're all terrible.) Synthetic Watermelon would eventually leapfrog over the Sea of Japan later in the year through an unlikely avenue: a high quality clone version by the company popInAladdin, developed for their line of home projectors as little more than a demonstration of the technology. The new remix on the Chinese mobile hit was modestly popular—enough that the company thought porting it to the Nintendo Switch as Suika Game (スイカゲーム) was a good business move—but it didn't make waves right away.
Suika Game really started to blow up in 2023, circulating around the Japanese-speaking internet and eventually catching the attention of influencers. Popular livestreamer Futon-chan (布団ちゃん) played it on September 7th, describing it as "a game I often play in my bedroom." From there, it shot to the moon; VTubers from Nijisanji and Hololive are streaming it for insane amounts of hours, and it's currently the top selling game on Nintendo's online storefront in Japan as of writing.
But what makes it such a good stream game? First of all, it's easy to comprehend; you don't have to observe for long before you've gotten a grasp on the gameplay loop. The goalposts can shift the moment you accomplish a milestone you've set for yourself, which keeps you playing for a long time. First, your goal might simply be to make one watermelon; then, you get fixated on making two; after that, you have to beat your high score. It's also highly competitive, so people that love to backseat are instantly engaged and eager to prove they can put up better numbers. Most importantly, there's an element of unpredictability. Suika Game is a matching-style puzzler, sort of like a Puyo Puyo or Drop Mania, but the fact that each piece of fruit has physics that affect every other one can lead to amusing and unfortunate consequences. Often, you'll accidentally launch a tiny cherry off into space and immediately get owned. More opportunities for the player to suffer means more entertainment for the viewer—the popularity of Getting Over It with Bennett Foddy as a livestream game has proven this.
"Stream game" has become a sort of pejorative in certain circles, carrying with it the implication that it's a better experience to watch than actually play. (These criticisms often get lobbed at things like the Five Nights at Freddy's series or Tsugunohi—a game that a disingenuous person might describe as nothing but "walking to the left.") Depending on your values, it might sometimes be the case that you'd rather be the observer than the person at the controls. There's nothing wrong with that! What makes Suika Game great, though, is that it's a good time no matter which side you're on. I enjoy testing my fruit stacking abilities just as much as I do scrolling the game's hashtag and observing random Twitter users succeed or fail at it. The game's taken a hold on some of my friends, and it's been a blast sharing scores and screenshots of my misery. To put it simply: Suika Game is a good stream game because, more generally, it's a good social experience. It's fun to share the moment with someone else. ✿
---
Thank you for reading this sixth installment of once bitten, twice shy. I missed my target of one post a week because I got sad, but I hope you can forgive me. This was not the post I planned to make, but I couldn't stop thinking about this damn watermelon game. If you'd like to play it yourself, it can be obtained for a cool 240円 (about $1.60) on the Nintendo eShop. It's a bit of an ordeal to set up a Japanese account, but you're smart and can figure it out. I'll have another post up soon, okay? Stay hydrated. Eat some fruit. Maybe donate to the Ko-fi if you're feeling nice, because my job security is not looking so good right now lol.
I'll see you in a few. Byeeeee. 🍉
---
Thanks for reading once bitten, twice shy. Subscribe, you little fruit. :->